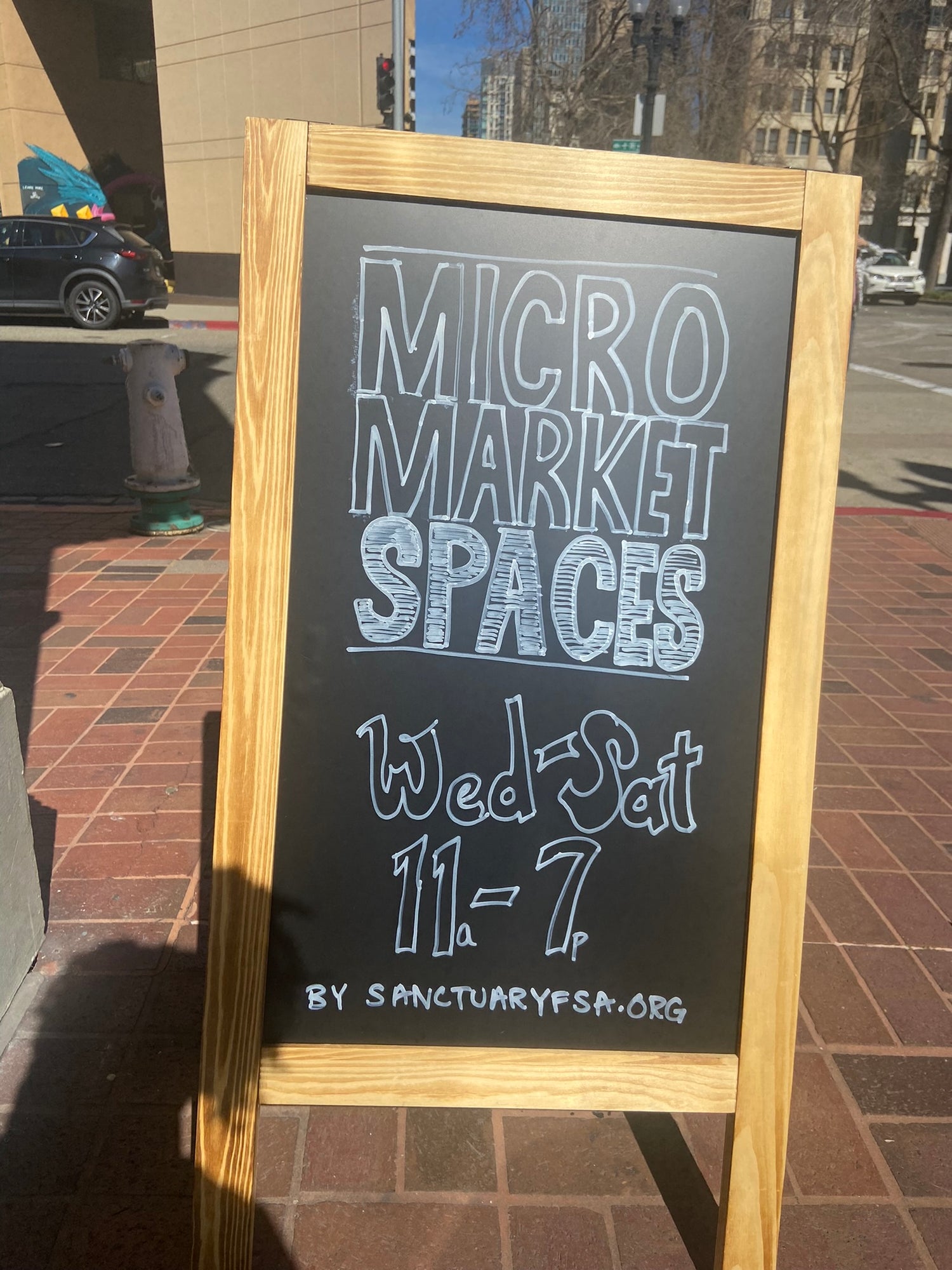 Shop With Us
977 Broadway, Oakland, CA, 94607
You can find our shop in the city of Oakland, in the Old Oakland neighborhood Our local shop is joined by 7 other local stores inside the Micro Market on the corner of Broadway & 10th.
Wednesday: 11am - 7pm
Thursday: 11am - 7pm
Friday: 11am - 7pm
Saturday: 11am - 7pm
Learn More
The Herbal Alchemist
Sade Adeyemi
Made with love in Oakland, California
My name is Sade Adeyemi, and I'm the Herbal Alchemist.
I'm also a person who has never identified with the beauty industry.
I've been able to experience firsthand the transformative power of intentional self-love through skincare. All my life, I've seen skincare ads starring beautiful, pale women and pricey luxury products that I internalized were never meant for me. I developed a scarcity mindset and believed that I didn't deserve to experience what they offered.
After my mom passed when I was 19, I shut down entirely. I didn't even notice that I completely
disconnected from myself to cope. I stayed busy, moved to Colorado, and went through life in a sort of fog going through the motions, doing what I had to do.
It took an embarrassing bout with eczema that couldn't be handled with my trusty drugstore lotion to start my path to reconnecting with my body. I couldn't afford to (didn't think it was a priority for my money) see a dermatologist, and the products I saw in stores were either incredibly pricey or full of toxic, unpronounceable ingredients.
In the last years of my mom's life on this Earth, as she battled cancer and bi-weekly chemotherapy
sessions, she turned to herbal medicine to take her health into her hands as much as she could. We learned together how to create different tinctures, teas and other blends to offer her some relief.
I decided to create a salve to alleviate my eczema, and was astonished by the results. Not only was my skin clearing up, but I also could feel the powerful results of slowing down to spend time showing love to my body with intention. I felt a connection to my Self I didn't realize I was missing for such a long time. I created more products with organic, healing ingredients that nurtured my skin and gently, lovingly brought me into my body.
My skincare routine, which started out of pure necessity to avoid ashiness and unsightly patches turned into a daily healing ritual that evolved the way I care for myself, and reminded me that I am worthy and deserving of the natural ingredients, time and effort that I get to nourish my body with each day.
I added affirmations into these daily routines, and these reminders while caring for myself helped to boost my self-esteem, the way I move through the world, my confidence, the way I speak to myself, and the way I treat my beautiful heavenly body.
I believe everyone deserves to experience the bliss that comes with intentional, loving self-care,
with quality ingredients. It's not about perfection, it's about experience. It's about spending time connecting with our bodies by taking intentional steps to nurture our Selves by treating our bodies in the way they deserve to be treated.
Why not also make the process an indulgent one? The products I've created as Herbal Alchemist have helped me develop a stronger relationship with my Self, and to learn to say "YES" to myself and to pleasure, even if it's only a few moments each day.
I believe everyone deserves to build a loving connection with their bodies, and one powerful path forward is through plant-powered skincare products.
The Herbal Alchemist is a natural skincare company that is working to break down the barriers of accessibility in the beauty industry by creating affordable, intentionally crafted plant-powered products. Self-care is often seen as selfish. For many people, it's just not a priority to indulge in a loving skincare routine, whether because of lack of time, money, experience, or the accessibility of products that are crafted with real ingredients. We're empowering communities to say "yes" to themselves, by making the luxurious experience of self-care both affordable and accessible.
Our mission is to transform the way people connect with nature and their Selves through intentional, loving  self care by bridging the gap to clean, plant-based skincare. We create opportunities for everyone to experience the simple luxury indulgent, plant-based skincare products in abundance. Our products are versatile, effective and have a range of pricing, which opens the door to those curious, but unable to make the commitment.
Be Well!