Regular price
Sale price
$15.00
Unit price
per
Sale
Sold out
16 in stock
Indulge in the refreshing hydration of the spa day sugar scrub! This scrub is great for exfoliating and firming skin, while while leaving your body feeling deeply moisturized. The bright scents of mint and eucalyptus are the perfect combination to refresh and renew after a long day. 
This scrub is infused with real, organic peppermint and eucalyptus for a powerful, invigorating aromatherapy session right in your shower.
Organic turbinado sugar is much coarser than refined sugar and can scrub away dead skin cells without the abrasiveness of refined sugar. This formula allows the mix of oils to deeply penetrate the skin and provides a smooth, glowing finish. 

Share
Ingredients

Turbinado sugar*
Cane Sugar*
Coconut Oil*
Rosehip Oil*
Apricot Kernel Oil* Vitamin E Oil*
Peppermint*
Eucalyptus*
Essential Oils
*Organic Ingredient

Ingredients may change without notice. Be sure to note the ingredients on individual packaging.
How to use

Directions for use:

While in the shower, use the included wooden spoon or a finger to scoop out a quarter sized amount. Rub the scrub into wet skin in a circular motion toward the heart. Rinse off and pat dry before following up with a moisturizer for intense hydration.

This whole body scrub is a powerful exfoliant and can be used on the body and feet, but is not recommended for use on the face.

For best results:

Store in a cool, dry place. We do not use stabilizers or preservatives in any of our products, which means their consistency is vulnerable to the weather, and may be lost after storing at or above 80 degrees.

Our products are made using ingredients that are gentle enough for a variety of skin types. It's always a good idea to test new products first on small patches of skin to see how they work with your unique body. Use only as directed. Avoid contact with eyes and sensitive areas.
Shipping

Products that are in stock will be shipped within 1-3 business days of your order. At checkout, you can choose your preferred shipping method and upgrade to thermal insulated shipping if desired. We are currently only able to ship within the United states. We use USPS priority mail shipping, which generally takes 1-3 business days to arrive, but in some cases, first class shipping is used, which can take up to 5-10 business days.
Return policy

We are not able to offer returns or exchanges for sanitary reasons. If there is a problem with your order, please reach out by sending an email to TheHerbalAlchemist@gmail.com and we'll do whatever we can to help!
View full details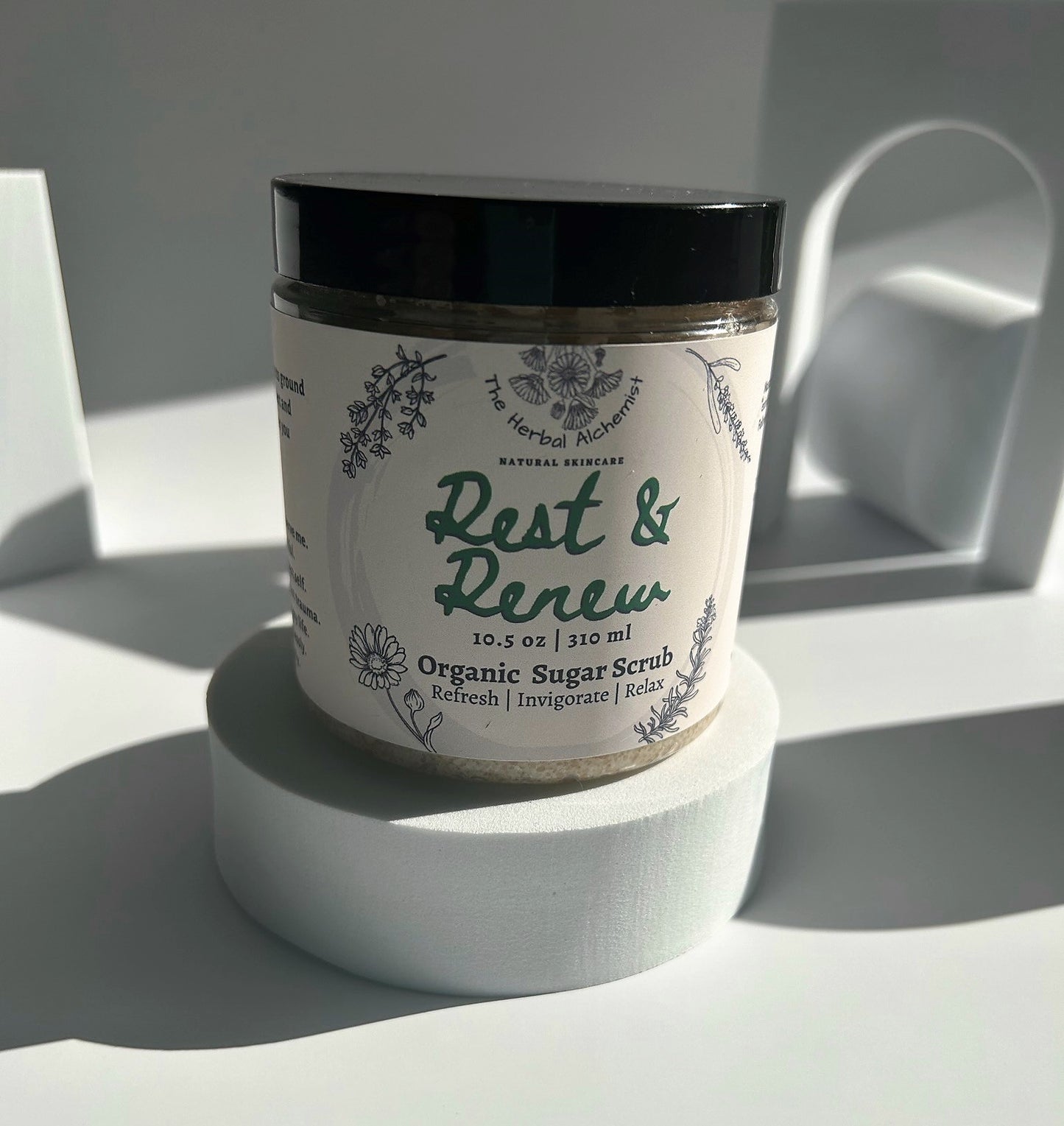 Key Ingredients
Peppermint

Soothe inflammation and itchiness
Refresh skin
Manage oil production
Prevents clogged pores
Relieve respiratory issues
Open up sinuses
Ease headache pain
Energize and refresh
Relieve stress and anxiety

Eucalyptus

Rich in antioxidants
Relieve cough & cold symptoms
Alleviate muscle & joint pain
Antibacterial & antifungal
Clear mucus & open sinuses
Control allergies
Boost immune health
Promote mental clarity & improved brain function

Coconut Oil

Hydrate & moisturize skin
Improve skin texture
Minimize appearance of blemishes and wrinkles
Kills acne causing bacteria
Soften & smooth skin
Reduce redness and inflammation
Promote healing of wounds
My shower is now heaven and this scrub is the divine light
The scent reminds me of vicks vapor rub with a soothing spin and I feel like it helps open up my lungs and nasal pathways without burning. It leaves my skin soft and smooth and I keep getting compliments!!! I'll be checking out the storefront in downtown Oakland soon to make sure I don't run out of my skincare essentials!!! I love your products <3