Regular price
Sale price
$15.00
Unit price
per
Sale
Sold out
Climb hard knowing you're covered! Don't let rough, unkempt calluses keep you off the wall. Keep your calluses conditioned, without over moisturizing, so you're always prepared to send!
A botanical salve intentionally crafted from herbs historically known for their ability to hydrate and heal and protect rough, damaged skin. 

This salve was purposefully created for climbers and those with hard working hands to soothe and condition dry, damaged skin. The herbs used have been traditionally known to treat eczema, calm acne, soothe sunburns, and treat cuts and scrapes. The oils inside are known for their hydrating properties and ability to be absorbed by the skin without leaving an oily residue. 
Share
Benefits

Heal damaged skin
Soothe sunburn
Moisturize dry skin
Alleviate inflammation
Heal chapped lips
Stimulate blood flow
Protect against infection of small cuts and scrapes
Prevent rough, flaky, itchy skin
Promote healing of cuts and scrapes
Alleviate symptoms of eczema
Relieve bug bites
Strengthen skin's protective barrier
Reduce appearance of scars
Support healthy collagen production
Promote cellular regeneration
Soothe dry, itchy skin
Promote the healing of cuts and scrapes
Reduce swelling, itching and dryness
Ingredients

Beeswax: full of vitamin A, promotes cell regeneration, assists in healing wounds, reduces swelling, prevents infection
Apricot Oil: softens and hydrates, heals the skin's surface
Almond Oil: hydrates skin and reduces appearance of scars
Calendula: tightens skin, reduces swelling, itching and dryness, and has antifungal and antibacterial properties
Thyme: stimulates blood flow in skin, relieves itching and tightness, and has anti-inflammatory and antibacterial properties
Lavender: - moisturizes and soothes dry, itchy skin, reduces redness and has anti-inflammatory and antibacterial properties
Lemon Balm: reduces swelling and redness, boosts circulation, encourages the healing of cuts and scrapes, has antibacterial properties, reduces damage from UV radiation
Vitamin E Oil: rich in antioxidants, relieves itching and tightness, alleviates acne scarring, reduces swelling and fights bacteria
View full details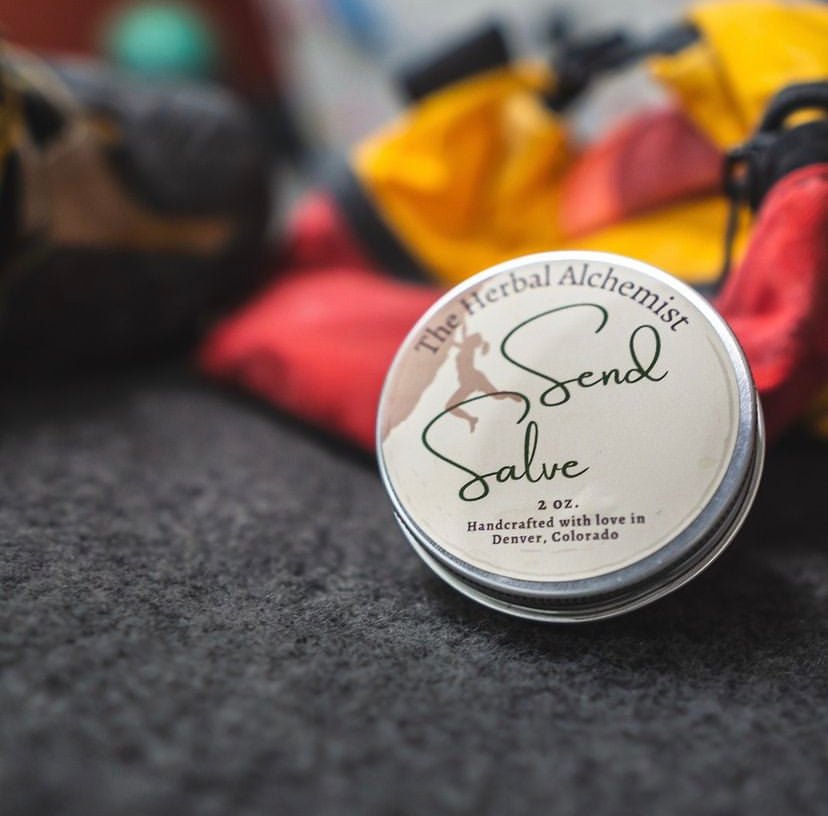 Key Ingredients
Calendula

Firm skin
Kill fungus and bacteria
Improves blood flow
Minimize swelling, itching
Soothe redness and irritation
Protect against free radicals
Regulate sebbum production
Rich in antioxidants, Vitamins A & E

Thyme

Relieve itching and redness
Improve circulation
Soothe inflammation
Kill bacteria & fungus
Protect skin from infection
Rich in Vitamin E
Speed up wound healing
Soothe rashes & irritation

Lemon Balm

Reduce swelling and redness
Kill bacteria
Cleanse clogged pores
Protect against UV damage
Fade dark spots
Minimize fine lines & wrinkles
Soothe and soften skin
Firms & tightens skin
Stimulates cellular regeneration
must have!
i loveeee send salve- it absorbs more quickly than any other climbing salve, and it gets me from bloodied fingies to real-rock-ready in 4-5 days! and since it absorbs better than other salves, im more likely to use it, period.
Incredible results, quality scent
I tear my hands up climbing, so my partner gifted me this salve after seeing it in the Movement Climbing gyms in Denver. I now use it every day whether I go climbing or not. Unlike some other salves, it smells incredible and it doesn't stain my clothes/sheets. Very grateful for this product and definitely will re-up when I go through this tin.
Get your skin and climbing career a favor, get some send salve (:
Sade and all of their products are TOP OF THE LINE and everything is made with love. You've got to get your hands on some Herbal Alchemist products! (:
I love Send Salve
Winter is brutal with cracked finger tips. Climbing chalk and cold weather, have me using Send Salve after every gym session before I even get in the car. It's saving my fingers and knuckles from bleeding and cracks!
Love this stuff
My poor climbing hands, this salve saves them!