Regular price
Sale price
$22.22
Unit price
per
Sale
Sold out
Summer Shipping *Please Read*
100% Plant Based | Organic Ingredients | Vegan | Cruelty Free
Imagine falling onto a bed of rose petals, gentle and luxurious. The scent of Radiant Rose reminds you to breathe deeply and smell the flowers. Its unmistakable aroma is sensual and soft, and creates an immersive experience where the rest of the world falls away.
Radiant Rose Whipped Body Butter: A luxurious, all-natural moisturizer that will leave your skin feeling soft, smooth, and hydrated.
Radiant Rose Whipped Body Butter is made with 100% plant-based ingredients, including shea butter, organic cocoa butter, and rose absolute essential oil. It is vegan, cruelty-free, and free of harsh chemicals and artificial ingredients.
This luxurious cream deeply moisturizes and nourishes your skin, leaving it feeling soft, smooth, and hydrated. It is also non-greasy and absorbs quickly, so you can get on with your day without feeling weighed down.
The delicate rose scent is both alluring and relaxing, and it will help you feel pampered and refreshed. Radiant Rose Whipped Body Butter is the perfect way to show your skin some love.
Scent Profile:
Alluring, floral & delicate
Soothing & soft
Intimate & relaxing
Pure Rose absolute, geranium, lavender, vanilla & jasmine
Why we love it:
Delightfully creamy
Deliciously appetizing
High quality, plant based ingredients
Deeply moisturize, smooth and firm skin.
Loaded with vitamin E for skin repair
Deeply absorbent, non-greasy
Luxurious, lasting hydration
Benefits:
Deeply moisturizes and nourishes skin
Leaves skin feeling soft, smooth, and hydrated
Non-greasy
Absorbs quickly
Alluring rose scent
Order your Radiant Rose Whipped Body Butter today and experience the difference for yourself!
Skincare is self care. You deserve it!
8 oz plastic or 9 oz glass jar
Share
Ingredients

Organic Raw Cocoa Butter
Unrefined Shea Butter
Organic Coconut Oil
Organic Avocado Oil
Organic Apricot Kernel Oil
Organic Wheatgerm Oil
Organic Vitamin E
Organic Arrowroot Powder
Essential Oils
View full details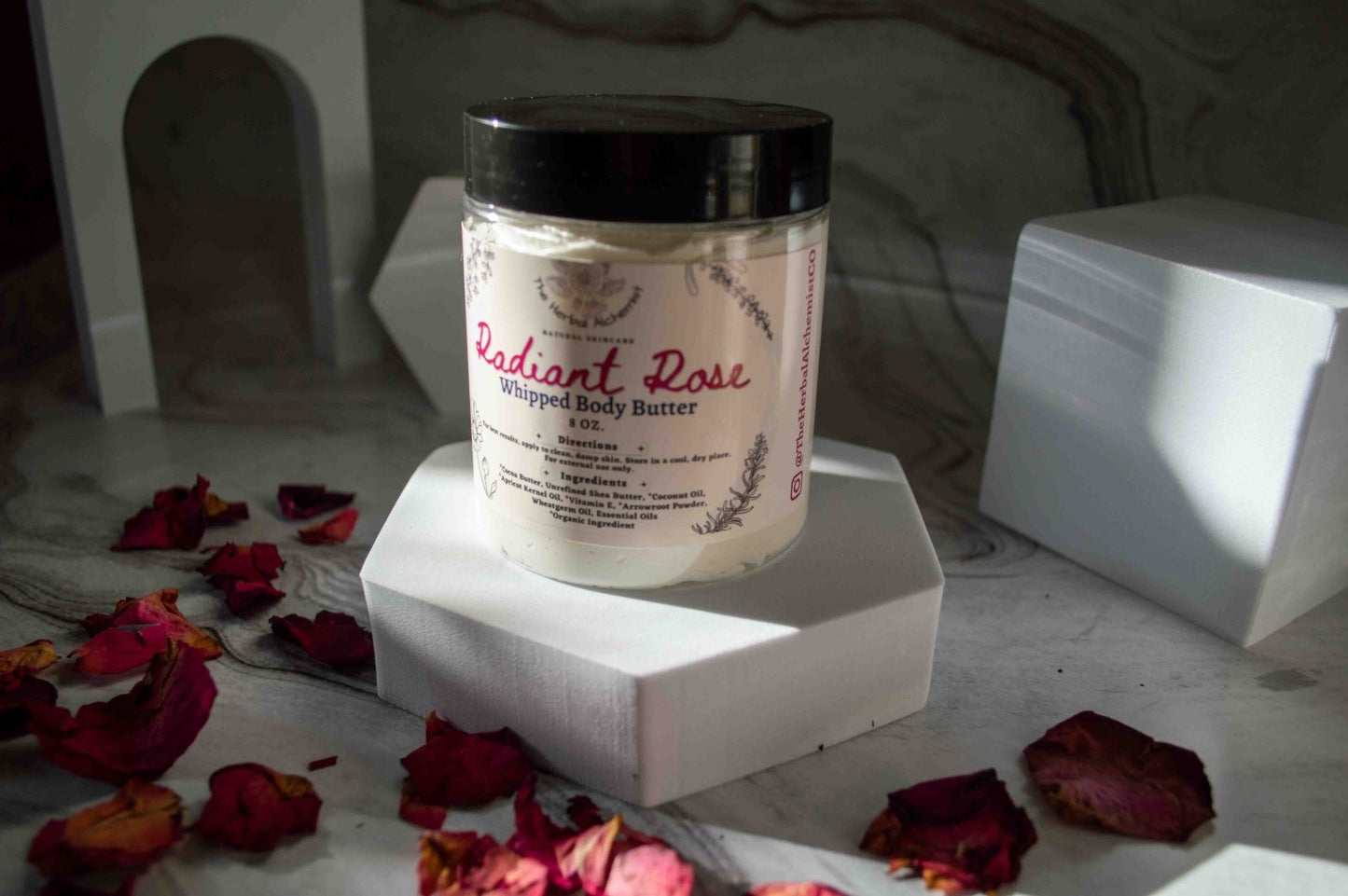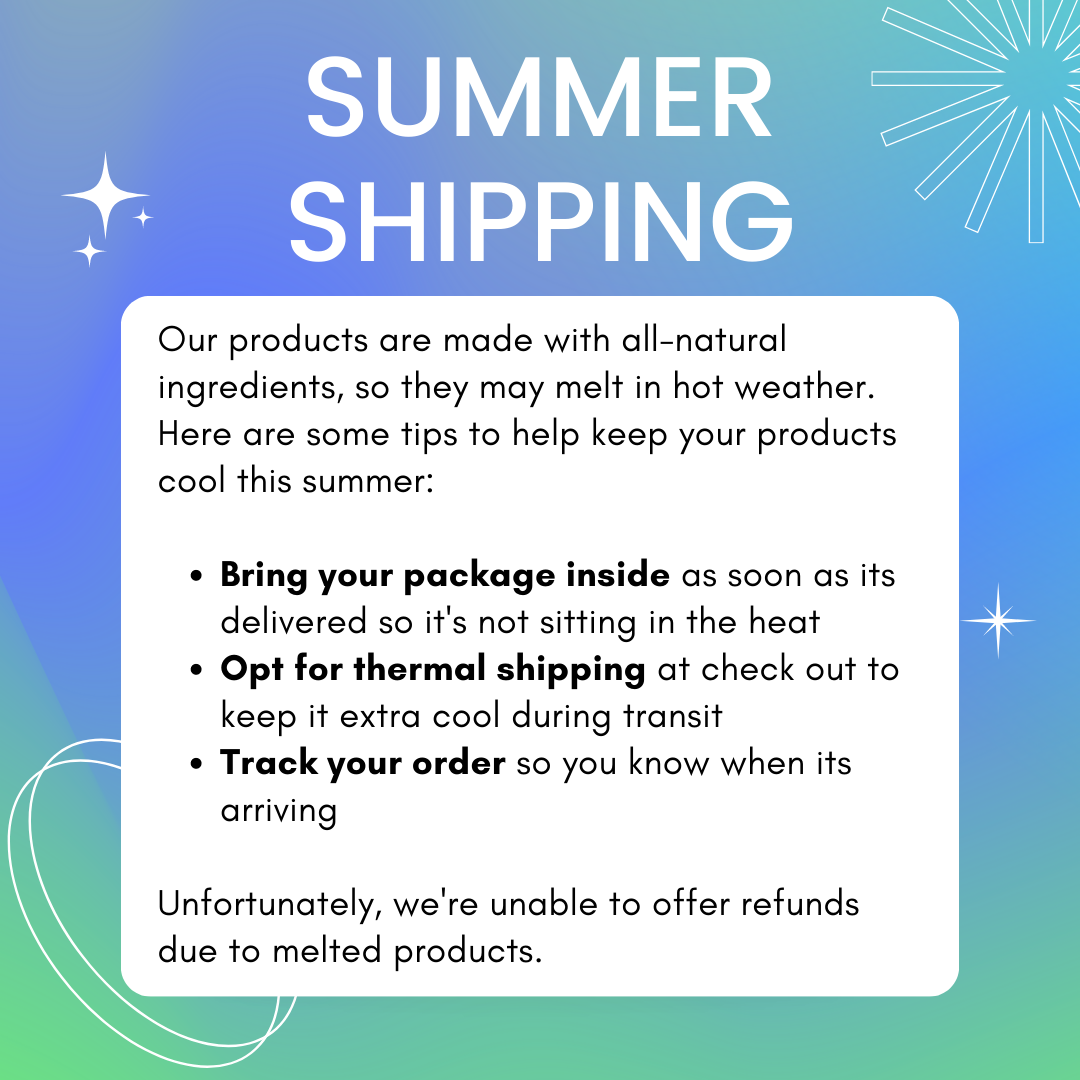 Key Ingredients
Shea Butter

Rich in Vitamins A & E
Moisturizes dry skin
Even skin tone
Promote cell regeneration
Fight breakouts
Restore skin's protective barrier
Boost collagen production
Reduce appearance of stretch marks & scarring
Reduce inflammation
Restore skin's elasticity & firmness

Cocoa Butter

Rich in Vitamins E & K
Deeply hydrate dry skin
Smooth wrinkles & fine lines
Soothe irritation, rashes & redness
Boost skin's firmness and elasticity
Useful in treating eczema & dermatitis
Lock in moisture
Minimize stretch marks & scarring
Minimize dark spots
Even skintone

Avocado Oil

Rich in Vitamins A, D & E
Protect against sun damage
Boost collagen production
Deeply moisturize dry skin
Heal chapped, itchy skin
Promote wound healing
Minimizes inflammation
Combats dullness & dryness
Reduces signs of aging
obsessed ♡
this rose butter feels like a dream! i love everything rose and this exceeded my expectations! smells like heaven and goes on so smooth and keeps me so soft and the scent actually stays!! i got the vanilla cinnamon butter as well and that one is exceptional as well- i really love both scents! regular store bought lotion does not compare i literally don't want to use anything else!!! looking forward to trying out more products! my skin is happy and so am i
Whipped Cream smoothness for the skin
The Rose Body Butter is like whipped cream for the skin! Deeply nourishing, delicious smelling. I highly recommend.
I Radiant Rose for my face.
I Purchased three items at the San Rafael market. I love the lavender scrub for my body and the butter cream. I loved the natural scent on all the products but my favorites are the Radiant Rose for my face it left my skin feeling soft, hydrated and dewy. The lavender scrub was pleasantly moist not overly oily. I highly recommend the products.