Regular price
Sale price
$22.22
Unit price
per
Sale
Sold out
Summer Shipping *Please Read*
100% Plant Based | Organic Ingredients | Vegan | Cruelty Free
Scent Profile:
Orange, vanilla
Bright, uplifting & familiar
Subtly sweet
Think Orange Dreamsicle
Why we love it:
Delightfully creamy
Gender neutral
Great for all ages
High quality, plant based ingredients
Deeply moisturize, smooth and firm skin.
Loaded with vitamin E for skin repair
Deeply absorbent, non-greasy
Luxurious, lasting hydration
Apply to damp skin right after a shower or before bed to experience the greatest benefits.
8 oz container 
Share
Ingredients

Organic Raw Cocoa Butter
Unrefined Shea Butter
Organic Coconut Oil
Organic Avocado Oil
Organic Sweet Almond Oil*
Organic Apricot Kernel Oil
Organic Wheatgerm Oil
Organic Vitamin E
Organic Arrowroot Powder
Essential Oils

Ingredients may change without notice. Be sure to note the ingredients on individual packaging.
View full details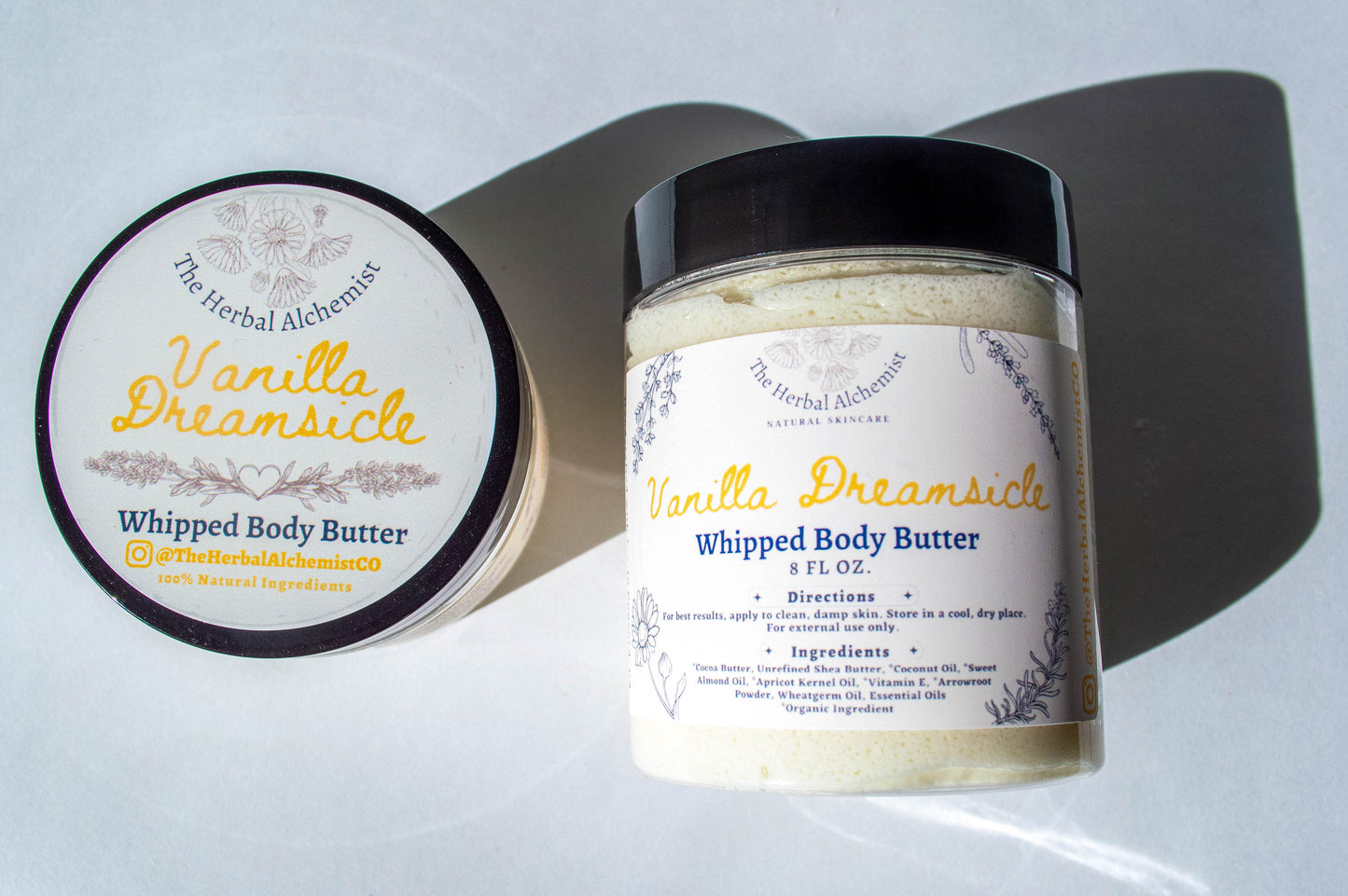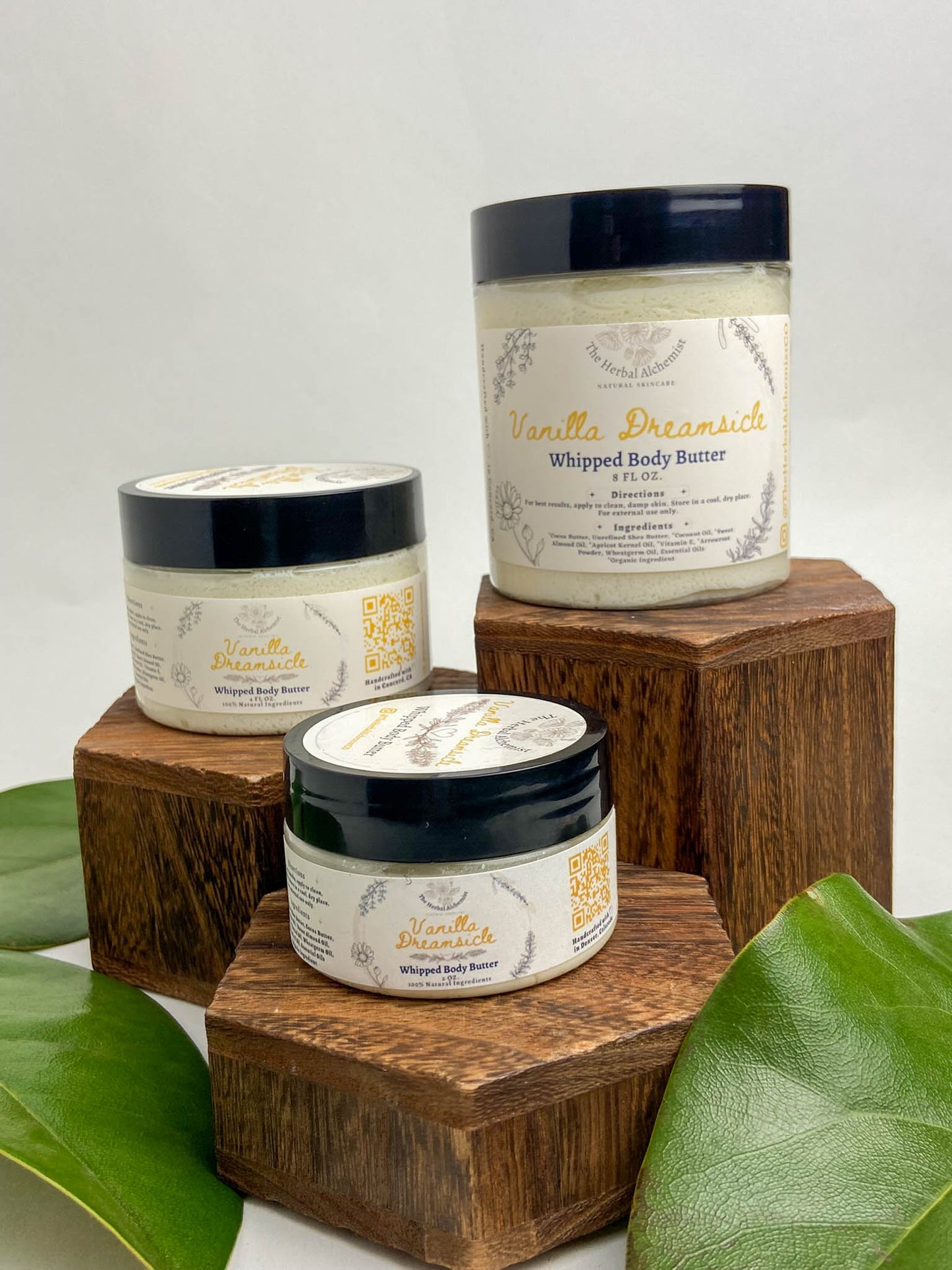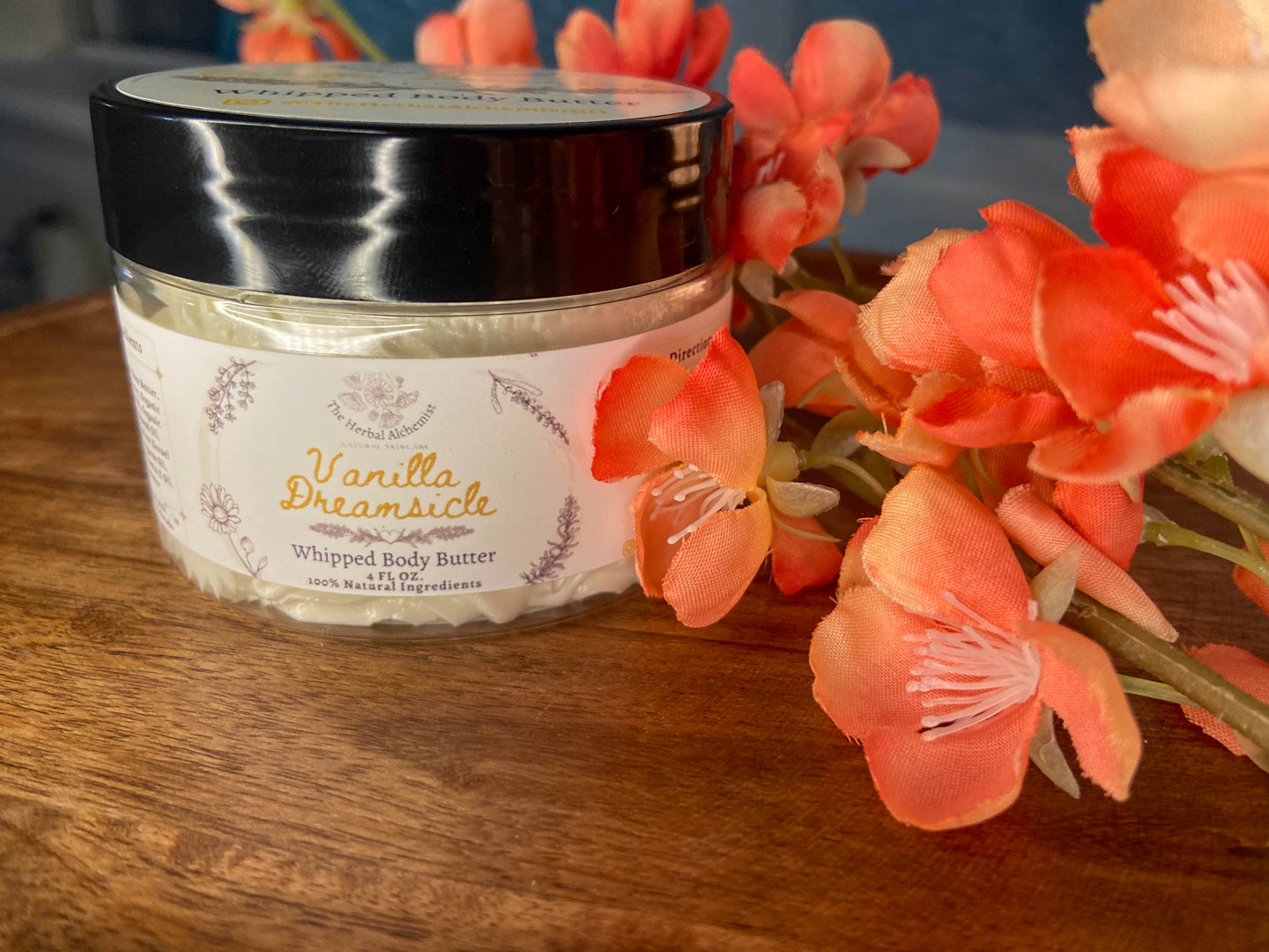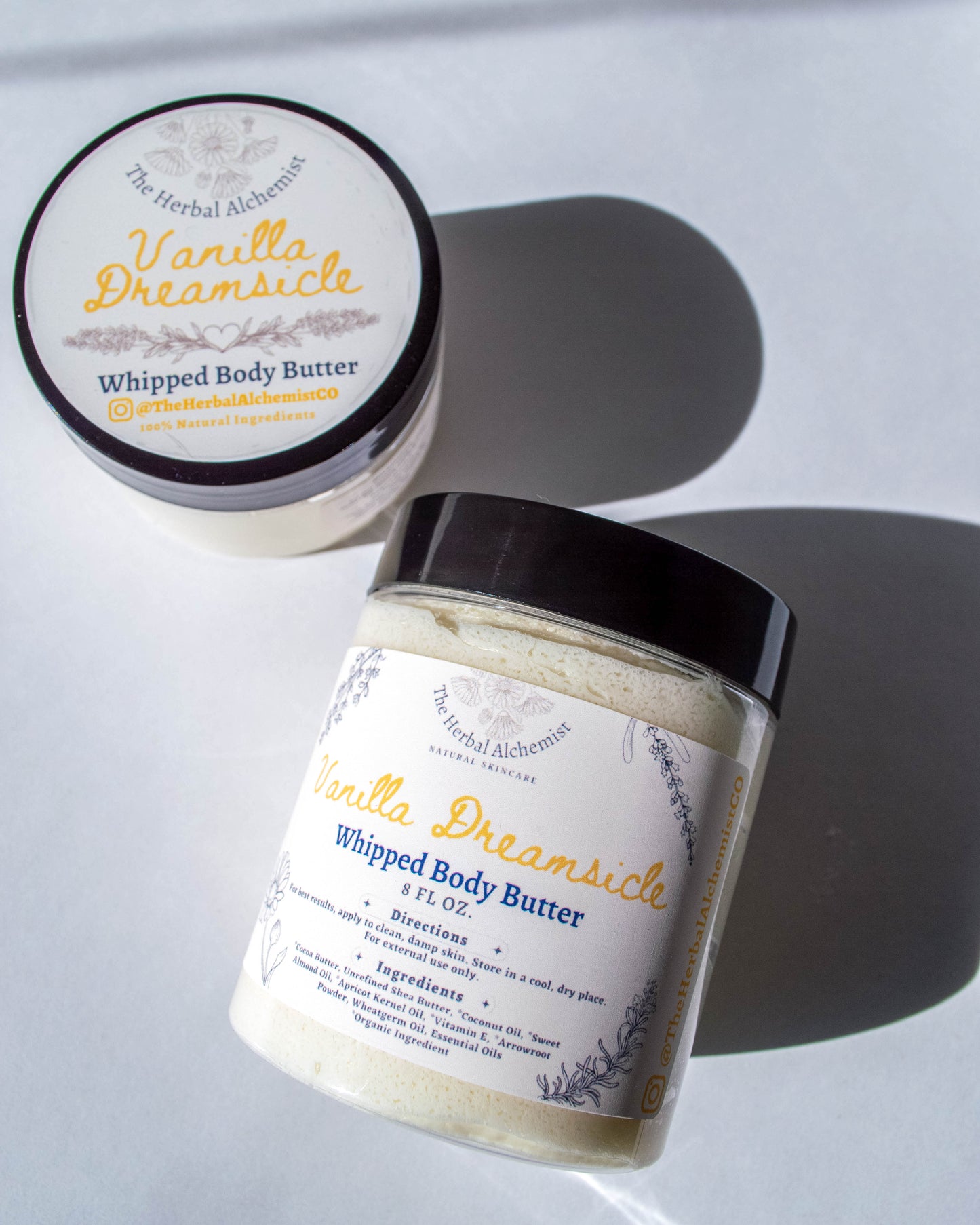 Key Ingredients
Shea Butter

Rich in Vitamins A & E
Moisturizes dry skin
Even skin tone
Promote cell regeneration
Fight breakouts
Restore skin's protective barrier
Boost collagen production
Reduce appearance of stretch marks & scarring
Reduce inflammation
Restore skin's elasticity & firmness

Cocoa Butter

Rich in Vitamins E & K
Deeply hydrate dry skin
Smooth wrinkles & fine lines
Soothe irritation, rashes & redness
Boost skin's firmness and elasticity
Useful in treating eczema & dermatitis
Lock in moisture
Minimize stretch marks & scarring
Minimize dark spots
Even skintone

Avocado Oil

Rich in Vitamins A, D & E
Protect against sun damage
Boost collagen production
Deeply moisturize dry skin
Heal chapped, itchy skin
Promote wound healing
Minimizes inflammation
Combats dullness & dryness
Reduces signs of aging
Good enough to Eat!
"I honestly love it (Vanilla Dreamsicle Body Butter)! Smells so good and my skin is so soft! My partner loves it too 🙃 I think his exact words were 'I want to eat you' 😂"
So grateful to have a great, non-oily moisturizer where I don't have to scrutinize each ingredient. As a health and wellness coach I am super careful what I use and what I recommend to my clients. This product is a big YES! :)
So grateful to have a great, non-oily moisturizer where I don't have to scrutinize each ingredient. As a health and wellness coach I am super careful what I use and what I recommend to my clients. This product is a big YES! :)
This smells amazingggg! Its perfect for me bc I have dry skin and live in Colorado. Love this will def be ordering again! Thank you :)
This smells amazingggg! Its perfect for me bc I have dry skin and live in Colorado. Love this will def be ordering again! Thank you :)